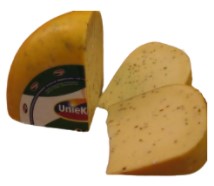 Country of Origin: Holland
Milk-type: Pasteurized Cow's Milk
Hearkening back to the traditionally popular pairing of Dutch Goudas with a variety of spices, this relatively mild, supple Gouda is seasoned with whole cumin seeds. The naturally buttery, distinctly nutty, slightly lactic character of the cheese is accented perfectly by the earthy, lightly spicy flavour and penetrating, warm lemony scent of whole cumin.
Serve with bittersweet or sour-sweet foods, especially rye bread, lemon cake, licorice, red grapes, black cherry, or dark chocolate.
Beverage Pairings: Beaujolais or Pinot Noir, Stout or Porter beers, or lemonade.
Sizes are approximate – {WEIGHT_POLICY}
Display 15 Products per page