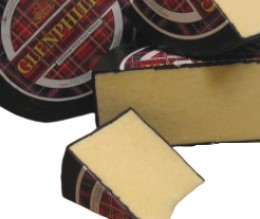 Country of Origin: England
Milk-type: Pasteurized Cow's milk
This full bodied Cheddar cheese from Ilchester, Somerset is flavoured with with robust, malty Scotch Whisky. Wrapped, in traditional British fashion, with a skin of black wax: the interior of this cheddar is pale, butter coloured and crumbly. Delicately matured to a mild, but sturdy, well-rounded flavour—the natural character of this Cheddar provides a delicious backdrop to the promiment, not overpowering, Scotch flavouring. Not too smokey, nor too peaty, the added whisky is nonethless assertive enough to take a front seat, lending a bold punch to this otherwise mellow cheddar.
Young enough to still melt well, this Scotch imbued Cheddar makes a superb topping for burgers or pulled pork sandwiches, a unique addition to a homemade macaroni and cheese, or baked overtop of a steaming hot portion of Rumbledethumps—an old-fashioned Scots comfort food from the Mairches.
Serve with your favourite Scotch, alongside dark chocolate, or with grilled game meats or lamb.
Sizes are approximate – {WEIGHT_POLICY}
Display 15 Products per page