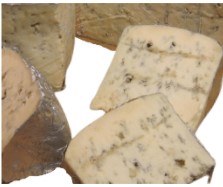 Country of Origin: Canada
Milk-type: Pasteurized Cow's milk
l'Ermite (meaning "the Hermit"; a reference to the social seclusion of its creators) was the first cheese produced by the cloistered Benedictine monks of l'Abbaye St. Benoît du Lac in Quebec. Originally manufactured in 1943, but still popular today: Ermite is a mild-to-medium, semi-firm blue with a light presence of darkly-coloured—sopmetimes brownish—"blue" veins and cream coloured flesh. The texture is crumbly, with a slightly grainy mouthfeel, and an earthy aroma remeniscient of wild mushrooms and freshly turned loam. Ermite is a relatively mild blue cheese, moreso herbal and earthy in character than sharp or funky. Easy to break apart, and with an agreeable melt—Ermite is a welcome addition to any kitchen, where it crumbles easily over soups—especially carrot or squash, and salads. Noted as an especially suitable pairing for beef, Ermite softens beautifully as a topping for a steak or burger. As a table cheese: serve Ermite alongside warm, buttered bread with pear, fresh figs, and walnuts or with roasted root vegetables, to which it makes a very natural pairing.
See also Blue Bénédictin, a closely related blue cheese which is also produced by the Abbey in St. Benoît du Lac
Beverage Pairings: Sparkling wines, Cabernet Sauvignon, Syrah, Zinfandel, Port, Scotch whisky and fruit juice.
Sizes are approximate – {WEIGHT_POLICY}
Display 15 Products per page