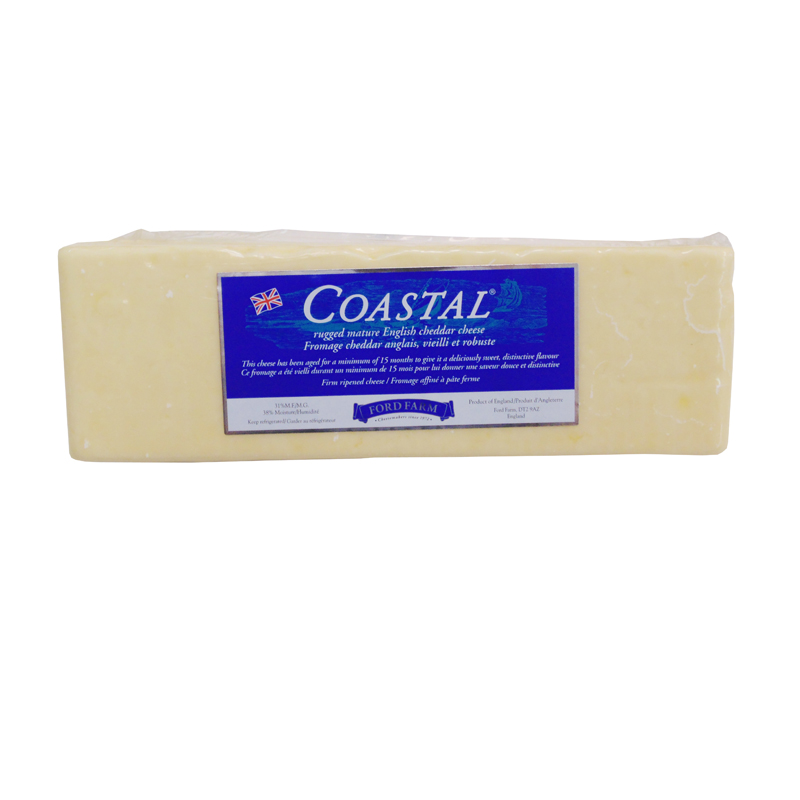 Milk-type: Pasteurized Cow's milk

This mature English cheddar, made at the Ford Farm Dairy in West Dorset, is aged for a minimum of fifteen months in the salty seaside air of the Jurassic Coast (a UNESCO World Heritage Site which the dairy overlooks, from which the cheese derives its name.) This uniquely flavoured, decidedly sharp cheddar is perhaps most prized for the pronounced crystalization of calcium lactate which occurs during the maturation period, and which lends to it a sumptuous, distinctly crunchy texture. The mouthfeel is at once crumbly and pleasantly buttery, the aroma is rich and savoury—remeniscent of warm buttermilk. Each loaf is a straw-to-golden colour, and the pronounced crystalization is readily visible as a scattering of variously sized white speckles.

Like other mature cheddars, Coastal Cheddar, is a crowd-pleasing favourite with an easy appeal. Enjoy this sharp, salty, slightly sweet cheddar in your favourite sandwiches, sliced next to a warm apple pie, as part of cheese and fruit platter, or—simple and unadulterated—with your favourite crackers.
Display 15 Products per page